For less than the price of two cups of coffee a week….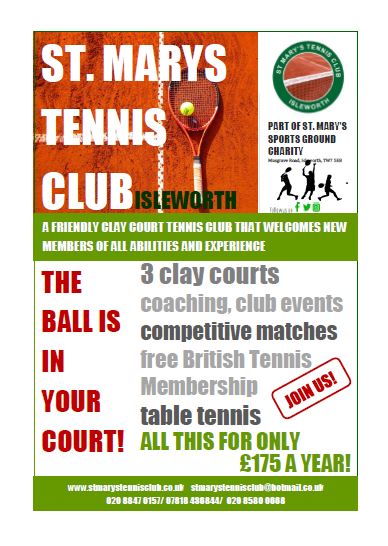 Membership at St Mary's Tennis Club offers you so much more…..
Play on the courts whenever you want, apart from when there are matches or  or special events.
Come to the club mix in sessions on a Wednesday evening and a Saturday
afternoon- all balls provided. No need to arrange a partner.
Benefit from the opportunity to play in competitive matches against other clubs
in the Middlesex leagues.
Arrange a free lesson with the coach within 6 months of joining.
Receive a discount on block bookings of individual or group coaching sessions.
Become a British Tennis Member for free.
Enter into the Wimbledon Ballot, provided you have 'opted in'.
Ask for advice on tennis equipment.
Take advantage of competitively priced racket restringing.
Checkout some discounts on racquets, sportswear and equipment.
Play table tennis and boules.
Come along to Club events- tennis and social.
Have lots of fun, fitness and good times!
How to join
If you are interested to join us, please email us or call us. Potential new members are also welcome to come and see us at one  of our Drop In Days, or one of our social sessions on either Wednesday or Saturday afternoons where they can play some tennis and meet other members of the club.
Membership categories and subscription rates for 2017
Full member £175
Call us and find out more about other available categories including family, junior and student membership.