LTA U12 Matchplay event Saturday March 25th 2017
Some of the participants in the first clay court tournament of the season.
Singles Shoot Out at St Mary's
On Saturday 20th August 2016, players enjoyed an action packed morning of fast paced and competitive singles matches, organised by Jimmy Smith, Head Coach.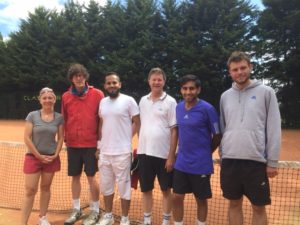 Quorn Family Tennis Cup event on Saturday May 28th 2016
This LTA supported event provided families with the opportunity to play tennis in informal fun competition. It also encouraged them to play tennis more often and to eat healthy food to complement an active life style. Congratulations to the winners!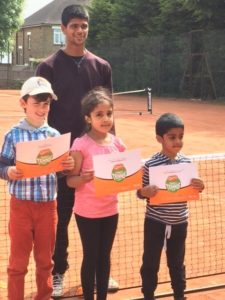 Open Days 2016
Due to their popularity, the Open Days are back for another year. Join us on Saturday 2nd April and 4th June for a range of free sessions. Register here
Davis Cup Legacy
In November 2015, Great Britain won the Davis Cup in an action packed final against Belgium in Ghent. To celebrate this historic victory, the first time in 79 years, and help to build towards future successes, the LTA launched its Davis Cup Legacy Scheme to train 100 coaches to deliver courses to 10, 000 children.  St Mary's was successful in its application to take part in this programme providing Davis Cup coaching for our Head Coach, Jimmy Smith and free tennis for young children during April and May 2016. Each lucky participant also received a tennis racquet at the end of the course. Perhaps the next Andy Murray will come from Isleworth? Fingers crossed!